Follow real-time updates on Union Budget 2023
Catch exclusive videos on Union Budget 2023 from CNBC-TV18
Trade setup for Friday, November 18: The Nifty50 is poised to bounce back from the lows in the near term, say experts. Here's what the technical charts suggest.
Indian equity benchmarks halted a two-day winning run on Thursday amid losses in financial, IT and auto shares though gains in oil & gas counters kept the downside in check. The Nifty50 finished six points below 18,350 — a level where many analysts see near-term support.
Caution persisted among investors globally amid concerns about the impact of aggressive hikes in COVID-era interest rates on economic growth.
What do the charts suggest for Dalal Street?
The
Nifty50
has formed
a small negative candle on the daily chart with a long upper shadow, reflecting the emergence of minor weakness from the highs amid moves in a narrow range, according to Nagaraj Shetti, Technical Research Analyst at HDFC Securities.
The 50-scrip index is placed at the lower end of the range of the past four sessions, he pointed out.
Nifty Bank near all-time high
"The Nifty Bank must cross 42,700 decisively to continue its uptrend towards 43,000-43,500 levels," Kunal Shah, Senior Technical Analyst at LKP Securities, pointed out.
"Immediate support is placed at 42,400 on the lower, a failure to sustain which can lead to a slide towards 42,000," he said.
Here are key things to know about the market ahead of the November 18 session:
On Friday, Singapore Exchange (SGX) Nifty futures — an early indicator of the Nifty index — rose as much as 84 points or 0.5 percent to 18,459 ahead of the opening bell in India.
Equities in other major Asian markets around the globe made mixed moves, following weakness on Wall Street after a hawkish remark from a Fed official, with MSCI's broadest index of Asia Pacific shares outside Japan trading 0.8 percent higher at the last count. Japan's Nikkei 225 edged up 0.2 percent, but China's Shanghai Composite slipped 0.2 percent.
S&P 500 futures were also down 0.2 percent. On Thursday, the S&P 500 slipped 0.3 percent, the Nasdaq Composite finished 0.4 percent lower though the Dow Jones barely changed after data showed the jobs market remained tight — once again triggering worries about more of steep rate hikes.
The pan-European Stoxx 600 index fell half a percent earlier that day amid weakness in mining and healthcare stocks.
What to expect on Dalal Street
HDFC Securities' Shetti expects the Nifty to find support at its 10-day exponential moving average around 18,250.
"We expect the market to show a bounce from the lows in the short term," he said.
Key levels to watch out for
The maximum call open interest is accumulated at the strike price 18,400, with 1.8 lakh contracts, and the next highest at 18,500, with 1.5 lakh contracts, according to provisional exchange data. The maximum put open interest is at 18,300, with 1.6 lakh contracts, and at 18,000, with 1.3 lakh.
This suggests a tough hurdle at 18,400 and strong support at 18,300.
Foreign institutional investors (FIIs) returned to net purchasing Indian shares on Thursday after a two-day gap, according to provisional exchange data.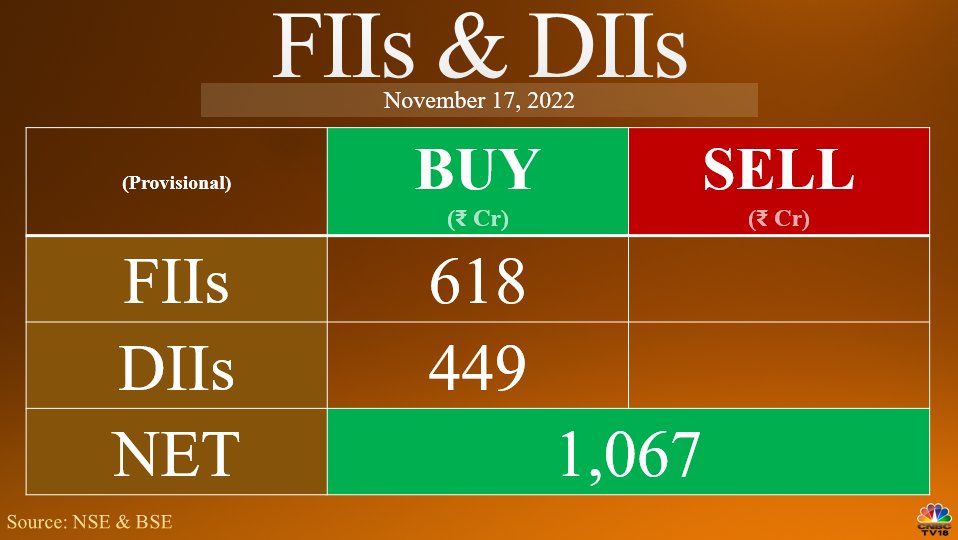 Here are five stocks that saw an increase in open interest as well as price:
| | | | | |
| --- | --- | --- | --- | --- |
| Stock | Current OI | CMP | Price change (%) | OI change (%) |
| ONGC | 36,875,300 | 143.65 | 0.21% | 5.71% |
| EXIDEIND | 26,337,600 | 186.9 | 2.41% | 3.40% |
| ICICIPRULI | 8,905,500 | 479.7 | 0.56% | 2.58% |
| HONAUT | 26,115 | 40,337.70 | 0.29% | 1.32% |
| BANKBARODA | 79,934,400 | 164.1 | 0.34% | 1.01% |
Long unwinding
| | | | | |
| --- | --- | --- | --- | --- |
| Stock | Current OI | CMP | Price change (%) | OI change (%) |
| AMARAJABAT | 6,656,000 | 636.15 | -0.31% | -9.99% |
| LTI | 1,144,050 | 4,933.65 | -2.43% | -9.57% |
| INDUSINDBK | 28,133,550 | 1,148.80 | -0.04% | -9.48% |
| INFY | 23,057,700 | 1,592.05 | -0.85% | -8.41% |
| KOTAKBANK | 22,067,600 | 1,952.75 | -0.90% | -8.36% |
(Increase in price and decrease in open interest)
| | | | | |
| --- | --- | --- | --- | --- |
| Stock | Current OI | CMP | Price change (%) | OI change (%) |
| UPL | 18,119,400 | 769.85 | 0.16% | -12.87% |
| SRTRANSFIN | 3,369,000 | 1,281.40 | 3.93% | -11.65% |
| IBULHSGFIN | 32,068,000 | 126.6 | 1.44% | -7.95% |
| POWERGRID | 36,587,700 | 218.85 | 0.62% | -7.60% |
| CUMMINSIND | 2,223,000 | 1,378.65 | 0.75% | -7.58% |
(Increase in price and decrease in open interest)
| | | | | |
| --- | --- | --- | --- | --- |
| Stock | Current OI | CMP | Price change (%) | OI change (%) |
| AARTIIND | 2,411,450 | 652.2 | -2.82% | 14.63% |
| METROPOLIS | 860,100 | 1,439.05 | -0.34% | 14.51% |
| NAUKRI | 1,611,875 | 3,916 | -5.53% | 7.73% |
| NMDC | 26,635,850 | 106.6 | -1.07% | 6.13% |
| GUJGASLTD | 3,525,000 | 495 | -1.92% | 6.03% |
(Decrease in price and increase in open interest)
52-week highs
A total of 12 stocks in the BSE 500 universe — the broadest index on the bourse — reached the milestone:
| | | |
| --- | --- | --- |
| BHARTIARTL | GODFRYPHLP | JBCHEPHARM |
| CUMMINSIND | HAL | MAZDOCK |
| ENGINERSIN | HUDCO | TIMKEN |
| EXIDEIND | IRFC | UNIONBANK |
52-week lows
Eleven stocks hit 52-week lows:
| | | |
| --- | --- | --- |
| INDIGOPNTS | QUESS | SONACOMS |
| MASTEK | SANOFI | SUDARSCHEM |
| MFSL | SHILPAMED | VOLTAS |
| POLICYBZR | SIS | |
First Published: Nov 17, 2022 11:46 PM IST