At a time when investments were being deferred and Capex addition had hit a multi-year low, the tax cut proposal from union finance minister Nirmala Sitharaman is expected to lend a fresh vigour to asset creation. The timing of the tax cut is critical as it comes ahead of the festive season and in the backdrop of the realignment of the supply chains globally.
The State Bank of India (SBI) chairman Rajnish Kumar noted that the move to incentivise setting up new manufacturing units in India comes at the most opportune time for foreign companies who could be actively looking for opportunities to invest globally.
Incidentally, multinational companies like ABB and Siemens currently fall in the higher tax bracket of 32-36 percent and stand to gain the most. Some domestic capital goods major like Thermax and Engineers India (EIL) have a current effective tax rate of over 35 percent, while for Larsen and Toubro (L&T) and Cummins it stands at 30 percent.
The move will not only directly impact the bottom line of the companies but would also spur demand which is expected to boost the sagging topline growth. The measure will provide more room to corporates to invest in net asset creation which in turn will have a multiplier effect on the economy.
ALSO READ:
Gautam Adani, chairman and founder of Adani Group, believes that the reduction in corporate tax and Minimum Alternate Tax (MAT) will infuse confidence in the economy. He adds that the measures also address the core challenge of liquidity reinstating India as an attractive investment destination.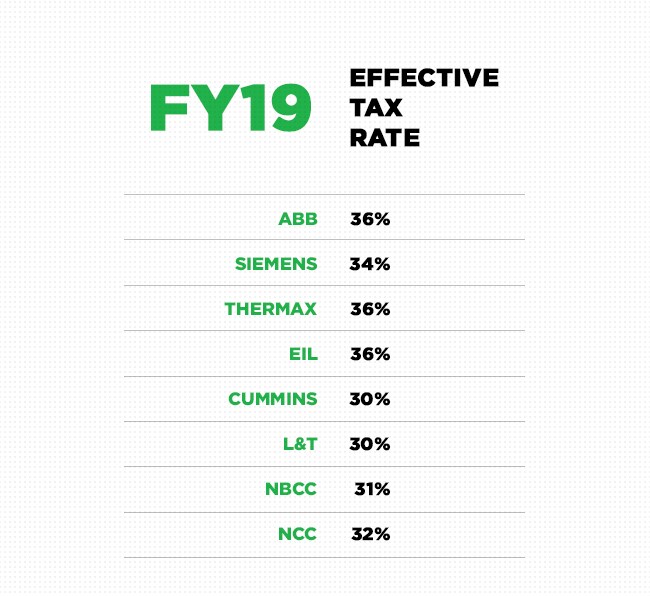 While the impact of increased capital expenditure in infrastructure will have a longer lead time, analysts believe that for sectors like consumer durables the impact would be visible in the upcoming festive season itself.
The consumer durable companies will have a bigger room to provide incentives and discounts to dealers and customers as the net profit margins are expected to expand.
The expansion might be loftier for the likes of Whirlpool, CG Consumer and Havells as they currently fall in the tax bracket of 30-35 percent as compared to Voltas and Blue Star, which pay taxes at the rate of 17-22 percent currently.
Anil Rai Gupta, chairman and managing director of Havells India confirmed to CNBC-TV18 that the effective tax rate for the company might come down from the current 30 percent to around 25 percent.
He added that the move will boost consumer confidence and result in higher growth during the festive season.